Baja Ibogaine is located in Playas de Rosarito which is located in Baja California which is located in Mexico. More specifically, we are located at K38 (Kilometer 38) which is a world-famous surfing location that attracts surfers from all over the world. K38 is fairly iconic thanks in part to a beautiful 75 foot stall statue of Jesus that sits atop a hill and is visible from the road. This statue is formally named Christ of the Sacred Heart, but to locals we just call it The Christo.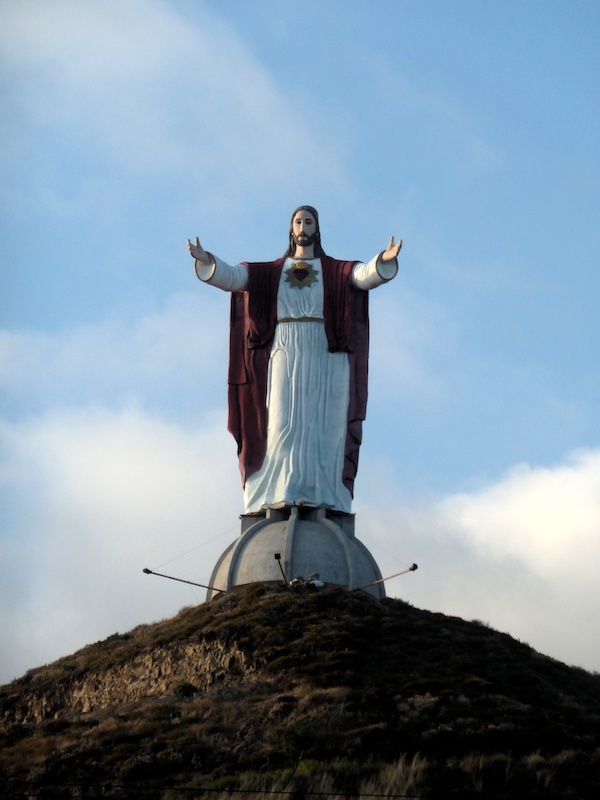 Getting Here
Let Us Pick You Up
If you can get yourself to San Diego International, we can take care of the rest. We will send a driver to pick you up at arrivals. Then it'll be a drive of less than an hour to take you down to our facility at K38. In all likelihood, ya'll sail right thru the border without being stopped. If you are stopped, this is totally fine, you may be asked to fill out a tourist visa and pay a tiny fee. If they ask you the purpose of your visit, just answer, "medical tourism."
If you are detoxing, remember that transporting illegal narcotics across international borders is illegal. We ask that you dispose of any drugs at the airport before getting in the car. Remember, the drive is less than an hour. And we will be prescribing you morphine on arrival to keep you comfortable before treatment. You will not be put into withdrawal, purposefully or accidentally. But for the safety of you and your driver, we ask that you dispose of any drugs prior to embarking for Mexico.
After you cross the border, ya'll get a close glimpse of the wall, but as it fades into the rearview mirror ya'll find a scenic drive along the pacific coast as you wind your way into Rosarito. Our facility is a few kilometers past the downtown of Rosarito, so don;t be concerned as you pass signs for Rosarito. We are nestled in a beautiful private hill a few kilomters past Rosarito downtown.